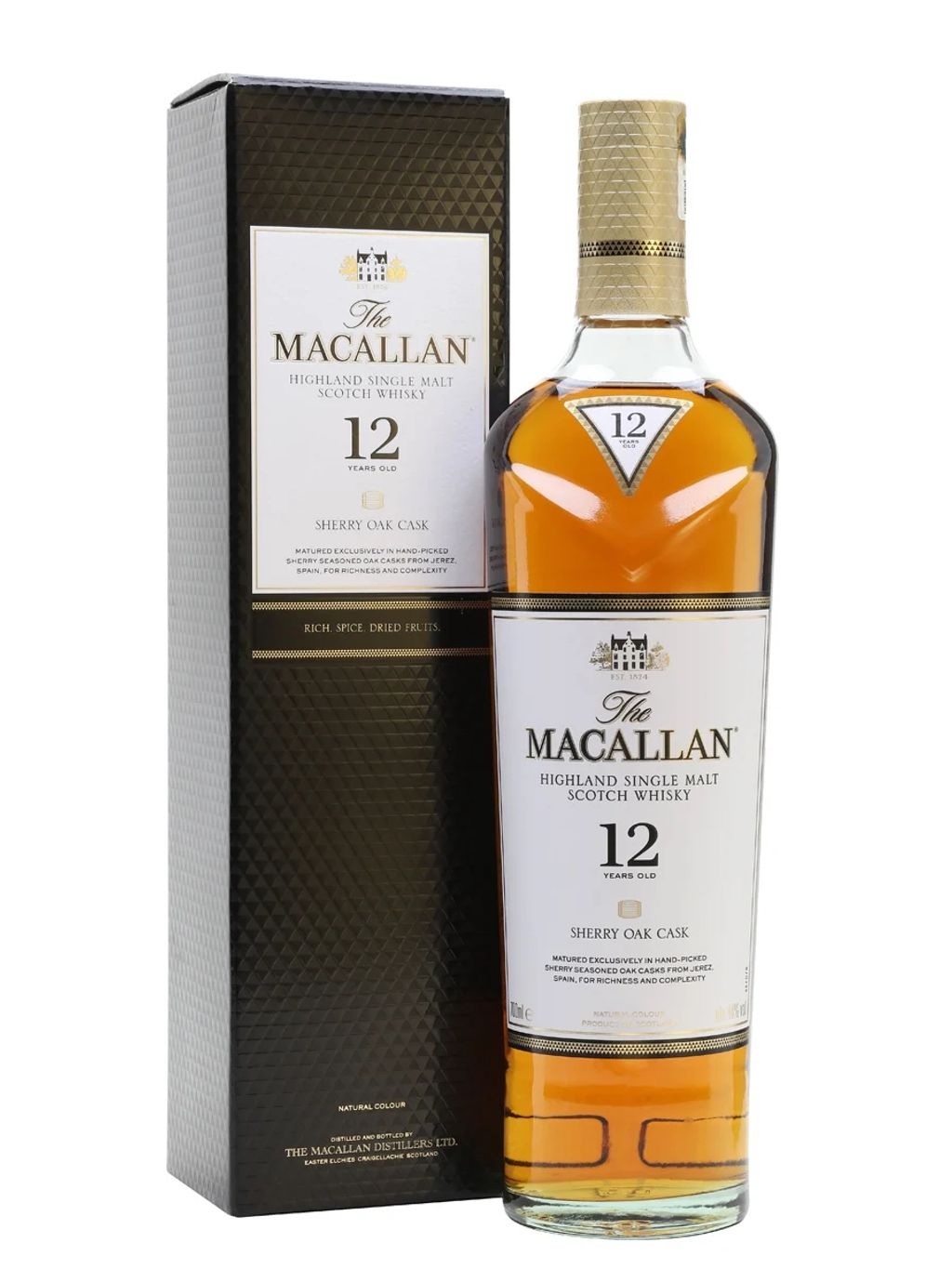 THE MACALLAN 12 YEARS OLD SHERRY OAK CASK
THE MACALLAN 12 Year Old Sherry Oak
THE MACALLAN 12 Year Old Sherry Oak
In fact, The Macallan was founded in 1824. Furthermore, it is one of the first distilleries in Scotland to have legal license. Since then, The Macallan has built a reputation as one of the world's truly great single malt whiskies. To fully appreciate The Macallan, we must understand the contributing influences of Scotland, Spain and North America, and of their respective natural raw materials, together with the methods and the craftsmanship, perfected over the generations, that combine to give such outstanding quality and distinctive character.
Origins and Growth
In fact, Alexander Reid founded The Macallan distillery in 1824. He was a barley farmer and school teacher. In addition, farmers had been making whisky on their farms in the area for centuries, distilling their surplus barley during the quieter winter months. After the establishment, The Macallan has highly recognised for the quality of its product above all else. This is the foundation for the worldwide fame of The Macallan.
Our Name
'Macallan' is most likely derived from two Gaelic words -'Magh' meaning a fertile piece of ground and 'Ellan', meaning 'of St Fillan', an Irish born monk who travelled widely in Scotland spreading Christianity during the eighth century.
In The Beginning
However, farmers have been growing barley on the lands around The Macallan distillery for centuries. As now, the barley would be sown in the spring, growing through the summer, and harvested in the early autumn. In the winter, with little activity on the farm, the barley would be fermented and distilled into whisky. The cold, wet weather provided plenty of cooling water for the stills. The whisky would be drunk new, straight from the still. Any surplus was stored for consumption in the summer or transported to more distant markets. In the spring, the cycle would begin again.
The Six Pillars
The Six Pillars are the foundation stones for the fame and character of The Macallan. They encompass the strong sense of place at the heart of the distillery and the estate, together with our long experience of distilling and maturing a single malt whisky with a reputation for product excellence and distinctive character. These, in combination, contribute to the essential character of The Macallan.
-Spiritual Home; Easter Elchies House, built in 1700, lies at the heart of The Macallan estate – Curiously Small Stills; contribute to the distinctively rich, fruity "new make" spirit of The Macallan
-Finest Cut; we take only 16% of the final distillation from the spirit stills to fill into our oak casks. This is the best of the best
-Exceptional Oak Casks; The Macallan spends more on sourcing, building, seasoning and caring for its casks than any other single malt whisky
-Natural Colour; the rich range of colours in The Macallan whiskies is drawn only from the wood of our exceptional oak casks
-The Macallan itself; the peerless spirit – one of the world's greatest whiskies.
ALC: 40%
COUNTRY: SCOTLAND
REGION: HIGHLANDS
SIZE: 700ML
---